I'm having that after glow birthday feeling – yesterday my Gazebo was well and truly road tested as close friends came and went to spend time with me. I think this is probably my best buy of 2020. It has enabled me to spend time with friends and family in a COVID safe way. Yes it was bitterly cold but the sun shone and when it went down we had a huge pit fire which kept us warm well into the night.
There is something about fire that brings people together in a very special way. It's the flickering light, crackling sounds, warmth, and distinctive smell. It has an interesting magical way in which it draws people closer together. If we go way back in time and look at how the cave people lived we can see that when all they had was each other, in the darkness of a cave, the light from a fire would be an elation, it would enable them to communicate with each other, share how their days had been and most importantly ward away any unwanted beings. Luckily we don't have to ward away enemies, well not yet, but last night I could see how it promoted sharing and story telling. It is almost as if the fire was saying "yes it is OK for you to open up, to reminisce and share feelings. "
I realised too just how important it is for my children and close friends to see me relaxed and happy. How hard it must have been for them over the past few years watching my sadness. I guess one can become a little self obsessed with grief that one forgets that others have to co exist with you. It was a wake up call for me when one of my children said, "it is so nice to see you smiling and looking happy mum."
NOTE TO SELF: Must try harder
In the spirit of it only being yesterday that it was 'my special day' I indulged and stayed in bed with coffee and my IPAD. I watched an intriguing Louis Theroux documentary on Scientology and suddenly remembered my own brush with this odd religion. I think I was probably about 16 and I was in Brighton accompanying a girl friend who had gone there for an abortion. I had to kill time while she was in the clinic so I wandered around the town and was accosted by some young people who persuaded me to take a scientific test that would help change my life. Well I had nothing else to do that day.
So they plugged me into an E-Meter  which is a shortened term for electropsychometer. It's a kind of lie detector – it measures the galvanic skin response of a person. Scientologists believe it can "see thoughts". And from what I can gather its supposed to tell the auditor whether or not the person has been "relieved from spiritual impediment of past experiences"
All I can remember is that they told me that unless I joined up I was in danger of ending my life by committing suicide because ….. well you probably get the gist. So far I have escaped the Moonies and the Scientologists but there is still lots of scary stuff out there.
It is an interesting and somewhat alarming documentary. But then I am never surprised by the antics of my fellow humans. Here we are just out of lock-down, the numbers have decreased, vaccines are on the way, so there is light at the end of the tunnel and yet – this was 09.30 at Harrods on December 6 – not a mask in sight. I rest my case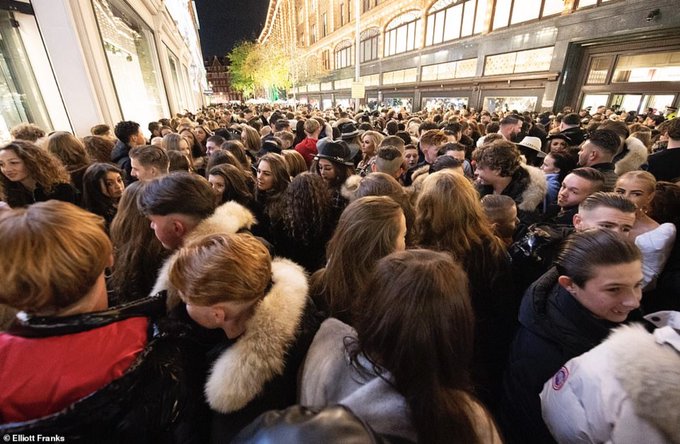 Moving on – if you too have had your fill of stuff like "I'm a Celebrity Get Me Out of Here" here are some alternative films you might find interesting. You can always check the trailers out first on You Tube.
After Springly Akeelah & the Bee, Virunga, Knock Down The House, Capernaum, Shoplifters, The Other Side of Hope, Babel and more mainstream The Joy Luck Club. I loved the book.
Look forward to your feedback.
"Let's be careful out there"